HVRI alumni and soon to be alumni at the 2023 Natural Hazards Workshop in Broomfield, Colorado, July 9–12.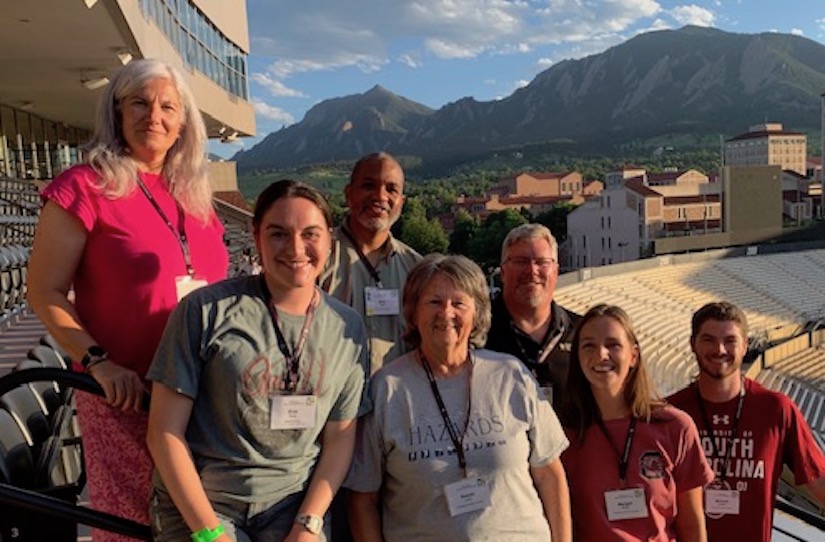 Sarah Jackson won the 2022 SEDAAG Graduate Honors Student Paper Competition for her paper, "Urban-Rural Tornado Occurrence in the Midwestern & Southern U.S." The paper was presented at the annual meeting November 21–22, 2022, in Atlanta, GA.
HVRI Co-Director Dr. Kirstin Dow and her team of scientists and local citizen volunteers undertook field work on August 6–7 in the city of Columbia to collect measurements for a citywide heat mapping project.
On April 1–2, 2022, HVRI staff and affiliates participated in Climate Ready Columbia, a conference hosted by USC's Ann Johnson Institute, that focused on local and municipal options for responding to climate change
Qian Huang, Ph.D. candidate, presented a paper at the 2022 AAG Virtual meetings on February titled, "Urban-rural Differences in COVID-19 Burdens and Vaccination Rates in the U.S." Read Huang's abstract.
Sarah Jackson, Ph.D. student, presented a paper at the 2022 AAG Virtual meeting on February 25, 2022, titled, "Spatial-Statistical Analysis of U.S. Urban-Rural Tornado Risk." Read Jackson's abstract.
Susan Cutter, HVRI Co-Director, presented a talk on March 4, 2022 in Clemson's Distinguished Speaker Series, "Equitable Risk Reduction and Disaster Inequality." This series is part of a NSF's Research Training (NRT) Program grant, Resilient Infrastructures and Environmental Systems (RIES).
Susan Cutter, HVRI Co-Director, co-authored a paper published in PNAS, "Toward data-driven, dynamical complex systems approaches to disaster resilience" with co-authors Takahiro Yabe, P. Suresh C. Rao, and Satish V. Ukkusuri." The paper appeared in February 2022.
Qian Huang, Ph.D. candidate, co-authored a paper, "Premature mortality attributable to COVID-19: potential years of life lost in 17 countries around the world, January-August 2020," published in the January 9, 2022 issue of BMC Public Health.
Visiting Fulbright scholar Julia Effgen, a doctoral student at the Federal University of Espírito Santo in Brazil, presented a talk, "Landslide Risk Assessment in Vitória/ES, Brazil," on Friday, August 27, at noon in Callcott 104.